Two years ago, South Australia was a bit of a basket case. The closure of Holden's Elizabeth plant, after 50-plus years of operation, had cast a pall over the state. For the bright young things departing for pastures greener, Adelaide was a city best seen in the rear view mirror.
But how times change! There's a lot going on in Adelaide, and now might be the perfect time to consider buying property in the cathedral city.
Let's take a look at why.
New jobs on the horizon
According to Invest Adelaide, South Australia is on track to become Australia's fastest-growing economy this financial year, with unemployment falling from 6.3% in February to 5.6% in March.
RIP Holden, but all aboard a naval future. French company DCNS, which won a $50 billion contract to build Australia's new submarine fleet, has undertaken that all 12 ships will be built in Adelaide.
According to the federal government's Naval Shipbuilding Plan, this means the state will need some 5,200 skilled workers by the mid-2020s to satisfy the demands of the burgeoning new industry.
Shipbuilding is not the only source of new jobs in the city either – the expansion of the airport is expected to create hundreds of retail and hospitality positions.
An enviable lifestyle
These days many expats are returning from the eastern seaboard states for a future in Adelaide. And it's not just the boom in jobs that's drawing them back.
With Melbourne and Sydney struggling to cope with the massive migration of the past few years, Adelaide offers a return to serenity and civility. Forget the long commute, for starters: here work is generally a short drive away. Many residents are actually able to walk or ride to the office.
Then there are the lifestyle factors – the ready access to beaches, gourmet food and wine in the Adelaide Hills, a burgeoning city restaurant scene and a vibrant arts culture.
Affordable housing a big drawcard
But for many people, affordable housing is the main attraction. For the price of a standard brick veneer in the outer suburbs of Sydney or Melbourne, Adelaide residents can buy an attractive old sandstone house on a decent-sized block, close to the city or the sea.
After years of stagnating and even falling real estate prices in Adelaide, the tables are turning. While Sydney and Melbourne prices are in decline, some Adelaide suburbs recorded double-digit growth over the past 12 months.
House prices are still comparatively cheap – the median price for a house in Adelaide rose from $452,000 in June 2017 to $470,000 in June 2018, according to South Australian Government housing data – but they are predicted to keep rising over the foreseeable future.
There are still rich pickings for canny investors, however, with average rental returns well above Melbourne and Sydney.
So where should you start your search?
By the seaside suburbs
If you're looking for a beachside lifestyle or investment without the price tag of the eastern seaboard, Adelaide's Brighton, Semaphore and Henley Beach suburbs tick a lot of boxes.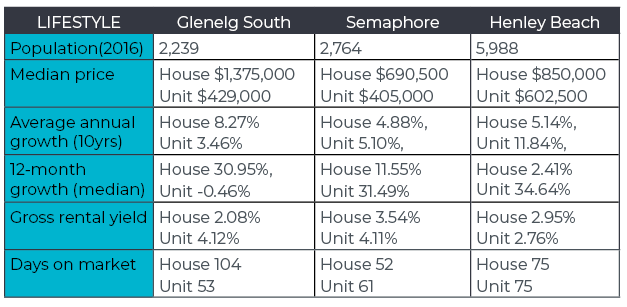 Glenelg and Henley Beach are attractive suburbs about 10kms from Adelaide CBD, with an easy tram journey getting you from the CBD to Glenelg. Semaphore is about 14kms out and is a popular tourist destination with a great café culture.
According to July figures from Your Investment Property, median house prices have risen by 11.55% in Semaphore in the past 12 months and 30.95% in Glenelg South. In Semaphore and Henley Beach, it's units that are going gangbusters, with rises of more than 30%.
Even with the sharp rise, positive employment prospects are contributing to securing rental returns of 4%+.
The inner suburbs
The popular inner suburbs of North Adelaide, Norwood and Prospect offer very different price points.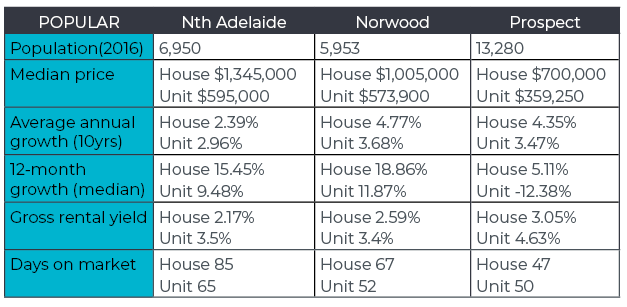 North Adelaide, a leafy suburb on the outskirts of the CBD, has some of Adelaide's most expensive real estate – after a decade of moderate returns, the median house price rose by almost 15% last year.
Norwood, a cosmopolitan suburb 3kms from the CBD, also showed strong growth of almost 19%.
Prospect (5kms from the Adelaide CBD) showed more moderate growth of just 5.11%. However, for a blue chip suburb, it has a more affordable price point than its expensive neighbours and is a suburb of choice for many buyers.
Keen to explore the options?
Adelaide can offer some excellent opportunities for investors and owner occupiers alike. For specialised advice on buying property in Adelaide to meet your particular needs and goals, contact Katherine at National Property Buyers on 0438 729 631.