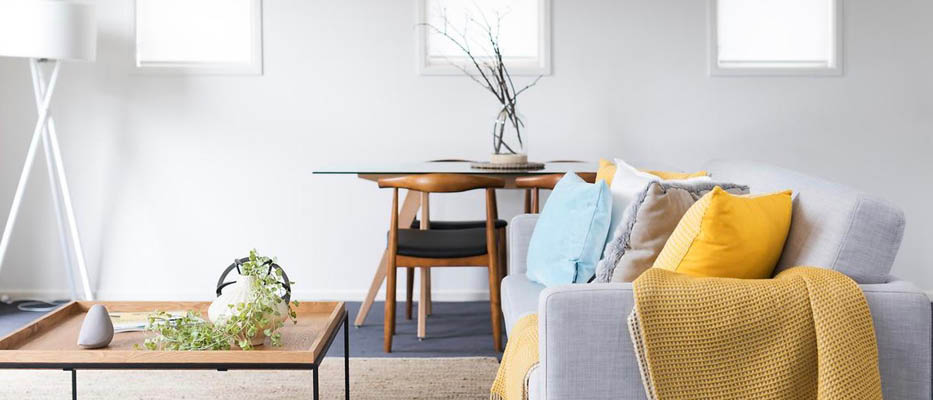 You've seen the advertisements in the glossy real estate magazines and on the websites: the sleek interiors and tasteful sofas, the rugs and throws and cushions, the statement paintings on the wall. It makes your own comfortable couch and armchairs look a bit … well, tatty.
The experts agree that cleaning and decluttering are key to enhancing the appeal of a property for sale. But many real estate agents also recommend that vendors use the services of a professional property stylist to maximise their selling price.
So National Property Buyers talked to James Thomas, an experienced property stylist at Melbourne firm Complete Property Presentations, to find out some of the tricks of his trade.
Selling a dream
James says property stylists are illusionists. It's about creating a mood that buyers respond to.
"We can make a house look bigger, brighter, cleaner, more inviting. There's a lot of psychology involved. We're pulling tricks on people, but what industry doesn't play tricks?" he laughs.
"The art work, the books on coffee tables. People want to read the books. They assume the art work is expensive. It gives a feeling of sophistication and culture. They look at the spotless kitchen and all the bench space and imagine themselves cooking. We're selling them the dream."
Turning a home into a house
He says his job is to depersonalise a property, to turn a home into a house.
"It sounds contradictory but a home is very personal. You've got your photos and other personal treasures," he says.
"When you're selling, you need to present a house so people can see themselves living there. They need to be imagining their own photos on the wall."
Most of the time he works with vacant properties. If the client is still in residence, he'll go through the property with them and see whether some of the items will work or whether they all have to go.
On occasions, he says, he has suggested the owner buy a rug or artwork and leave it at that.
"But that's rare. Most of our recommendations come from agents, and if the home's all right they wouldn't call us in."
The big mistakes
What are the furniture mistakes he sees most often?
"The most common mistake is too much portable storage, especially in bedrooms. Chests of drawers and free-standing wardrobes. That really shrinks the room. When you walk into a room, you need to see all four corners.
"The other mistake is buffet units in small dining rooms. If I was selling my home, my buffet unit would go.
"Of course the bathroom, laundry and kitchen have to be spotless. Kitchen benches need to be empty. When people walk through, they're thinking 'I'm never going to have to clean that!'"
White is right
As well as its furniture section, Complete Property Presentations also runs crews of tradespeople – painters, gardeners, electricians, plumbers – who can be called in when necessary.
"It's always better to give your house a good repaint throughout," James says.
"Of course it all depends on the budget, but a bright red wall is no good to anybody – paint it white! Nobody objects to white.
"And if you're coming through with furnishings and art work, a nice bright white really sets them off."
He never goes too heavy on a single style or theme.
"You don't want to isolate anyone when they're walking through. One room might be too blokey or masculine, then they walk into the next room and it's softer, more feminine. You need brighter colours for a room that's going to suit the kids."
As for all those rugs and throws and cushions, they serve a purpose.
"Every house, even a new one, has faults," James says.
"But people are too busy falling in love with the beautiful stuff they want to buy that they ignore most of them."
Costs versus value
The costs of custom fitouts can vary enormously, depending on what's required, a makeover can cost from $1,500 to $8,000 depending on the length of the campaign and the size and location of the property. At Complete Property Presentations basic furniture packages start at $1,800 plus GST for a one bedroom apartment to $2,500 plus GST for a 3 bedroom house.
A package should include the initial consultation and six weeks rental to allow for photography and the sales campaign.
You may also need to factor in the cost of storage for your furniture. A good property styling company should be able to recommend one.
James says it's difficult to put a figure on the value of property styling in a volatile market.
"What we can say is that styled properties tend to have more people coming through on open days and that's all about visual presentation," he says.
"Our job is to bring in the potential buyers. Once they're there, a good agent should be able to sell to them."
To find out more about preparing your property for sale, contact National Property Buyers.
All photos sourced from Complete Property Presentations.