The public notification period for the Queen's Wharf Resort Development opened last month and will close on the 21st of September. With the announcement in July that Destination Brisbane Consortium has been chosen to deliver the multi-billion dollar project, community members, business, residents and other interested parties have been invited to make written submissions regarding the redevelopment.
Submissions will be made to the Minister for Economic Development Queensland and information provided will be used to consider amendments potentially required for the proposed development.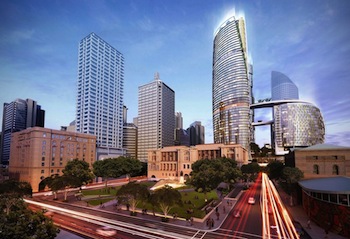 To say that the Queen's Wharf redevelopment is a massive undertaking is an understatement. The site will include 5 and 6 star luxury hotel accommodation, fine dining, entertainment including a roof top cinema, an infinity pool taking in Brisbane River views, and a Sky Deck overlooking the Brisbane skyline.
The project will employ more than 2,000 people during the construction, which is scheduled to begin in 2017. 8,000 jobs are forecast to be created once the precinct is completed in 2022.
Queen's Wharf is viewed as a hugely significant project in setting Brisbane as a 'world city', with tourism anticipated to see a huge increase in financial output. According to Destination Brisbane Consortium, the Queen's Wharf precinct will generate an anticipated increase of $1.69 billion annually once completed.
Brisbane has won praise recently as a city on the rise from Ahmad Abdelrazaq, the project manager behind the world's largest building, the Burj Khalifa in Dubai. Abdelrazaq is the Executive Vice Chairman of Samsung C&T's High Rise Division, a role in which he oversees the development and construction of major projects all over the world.
Abdelrazaq was in Brisbane earlier this month for urban planning conference. "My impression is it's just one of those cities ready to rise" he said.
With projects such as Queen's Wharf, Brisbane would be on track to reach that potential.