Again an increase in the auction clearance rate to 46% over the month of October is a certain sign that Spring Confidence is back. This is dizzy heights for Brisbane Auctions.
Observing the movement and activity in the local Brisbane market place I am on the opinion that we are currently in a unique buying cycle, in fact we are experiencing 3 cycles in one:
a) The 3-5km Inner city suburbs that have not typically had price adjustment since 2010 are now moving at a great pace. These suburbs are experiencing great recovery figures in volumes and are recording good high end sales again with reports of multi offer scenarios from most selling agents of non-auction properties.
b) Mid-range suburbs 5 – 8kms from CBD. The properties that are presented to the market with motivated sellers are moving quite fast. These areas are surging ahead on the phenomenon known as the "ripple effect". So basically; on the back of the city fringe suburbs becoming unaffordable.
c) Affordable suburbs 10-15kms from CBD, where there are listings under $500,000. These suburbs are experiencing increased sales volumes particularly at the lower end of their markets but the high level of sellers holding out for more growth is really creating a frenzy to grab any property at all in these areas, irrespective of quality of property.

Top Performing Suburbs in Brisbane
Fastest Growing Suburbs in Brisbane – Houses

Rank #

Suburb

Median Price $$

Trend + %

1

Hamilton

$1,014,000

+40%

2

Spring Hill

$615,000

+27%

3

Northgate

$522,000

+21%

4

Windsor

$622,000

+17%

5

Heathwood

$580,000

+17%
Fastest Growing Suburbs in Brisbane – Units

Rank #

Suburb

Median Price $$

Trend + %

1

Albion

$510,000

+20%

2

Mount Gravatt East

$442,000

+15%

3

Wooloowin

$350,000

+11%

4

Newstead

$698,000

+11%

5

Paddington

$480,000

+10%
Why Medians, Not Averages?

Some investors might wonder why median prices and median rents are the standard statistics used to describe Australia's property market, rather than average prices and average rents.
After all, an average (also called a "mean") is a much more common and better understood statistical tool than a median.
However Medians are generally considered more reliable for describing the Australian property market, and thus their adoption by all professionals and independent statistical bodies.
The reason for this is that medians are less influenced by "outlining" prices – those that are higher or lower than typical prices by several degrees.
Let's say you had a suburb called "example town", where 11 houses had sold over the 2012 calendar year for the following prices: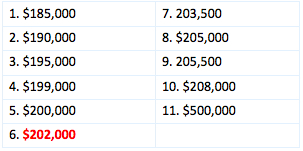 The median price of that set is $202,000, while the average price is approximately $227,000.
Although it is only a simple example, this result makes it clear why medians are considered a more reliable method of ascertaining an indicative property price, because averages are more affected by extreme sale prices within the sample.
Turbo Charge Your Wealth Creation Plan
Great Development sites still exist in Brisbane – You just need to know how & WHERE to find them!
The population of Brisbane is still growing and the need for more dwellings has increased therefore triggering the council to create a revision to the local plan and creating a need for higher density in some areas of Brisbane. That means that there are opportunities for investors to kick start their wealth through development.
NPB can assist their clients in the sourcing of these development appropriate sites commonly known as MUD's. ( Multi-Unit- Dwellings) & SUD's (Single-Unit-Dwellings) & residential sub-divisions (small lot dwellings).
MUD's – Groups of Apartments or Townhouses governed by a Body Corporate.
SUD's – Single dwellings, usually smaller then a MUD, on its own freehold title.
SUBDIVISION – Creation of a small lot (800msq+) into two small 405msq lots.
There are still great opportunities to create a capital gain by acquiring one of these sites and fulfilling its potential. However, for the uninitiated there can be many a thing that can go wrong if the correct and thorough Due Diligence is not followed.
Tips For Investors
Be thorough on planning research and Due diligence, engage the appropriate people.
Seek advice from council or town planners regarding the frontage requirements & minimum lot size to suit requirements.
Don't forget to calculate council infrastructure charges into your budget as well as state gov levies and builders insurance.
Investigate sales values of end product envisaged on lot prior to purchase.
Determine if site is suitable for MUDS or SUDS.
Take advantage of councils RiskSmart Assessment process which could save considerable time which normally translates into a saving in the pocket.
National Property Buyers, once engaged, can help you source & acquire a property that has the required "hidden zoning" potential. We can assist in determining the most suitable end product and then help you by introducing you to one of our "Partners In Property" who will work with you ( & NPB) to complete the planning and building process.
Please call Stephen McGee on 0488 501 170 to enquire about this service.
Housing Market Report
Capital city market report
Prepared October 2013 by Dr Andrew Wilson, Senior Economist Australian Property Monitors
National Overview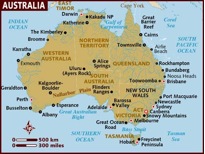 National housing prices increased by 2.4 percent over the three months to August, and are now up by 7.1 percent over the year. Although recording another solid quarterly rise in median house prices, the national result was primarily a result of strong increases in both Melbourne and Sydney. Brisbane recorded moderate price growth over the quarter, up 1.1 percent, while all other capitals either tracked sideways or recorded price falls over the quarter. The mixed results reflect the continued general underperformance and fragility of local economies despite the lowest interest rates for 60 years.
Click here to read the full report.
Spring Buyer's Guide
The essential reference guide for home buyers and investors – released October 2013.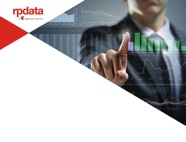 With the Australian housing market well into a growth phase, it is critically important that home buyers are well equipped with the most comprehensive and timely research possible. RP Data's Spring Buyer's Guide provides a simple reference guide to assist prospective home buyers to make an informed decision before entering the property market. The Guide provides extensive data about typical dwelling values, rental rates, selling time and discounting rates across every council region and suburb around the country.
Click here to download the report.
Brisbane is "OPENING" for Business
Article 1:
New tilt train shaves six hours off Brisbane to Cairns trip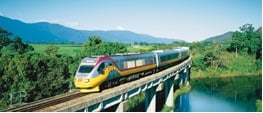 A new train has hit tracks between Brisbane and Cairns – a move which will see The Sunlander phased out early next year.
The Spirit of Queensland departed Roma Street Monday afternoon and will reach Cairns six hours sooner than its counterpart has done since 1953.
The new tilt train will cover the 1861km in 25 hours, at speeds of up to 160km/hr.