Melbourne's median house price jumped by 5.4 per cent in the June quarter while the national property market recorded its strongest results in a year, according to new research.
The June quarter Real Estate Market Facts report, released by the Real Estate Institute of Australia (REIA), revealed an overall improvement in the residential property market compared to the previous quarter.
"Over the June quarter we saw growth in the Australian residential property market with the best performance recorded since September 2010," said Pamela Bennett, REIA acting president.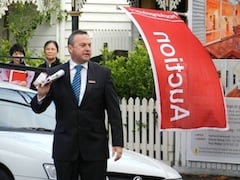 The report, which is based on information supplied by state and territory-based REIs and various government departments, revealed that house and other dwelling median prices rose by 1.2 per cent to $541,188 and 0.5 per cent to $430,230, respectively.
"These are the largest increases recorded since the September quarter of 2010," it said.
"Canberra, Sydney and Melbourne recorded the highest median house prices while the lowest were evident in Brisbane, Adelaide and Hobart.
"While Melbourne showed the greatest improvement over the quarter, the largest decline was evident in Darwin with the median price down 6.4 per cent to $515,000.
"Over the year, the weighted average capital city median house price increased 0.9 per cent. Decreases were evident in Brisbane, Darwin, Perth and Adelaide."
In the June quarter of 2011, only Perth, Melbourne and Hobart recorded rises in median prices for other dwellings. The other dwelling median price for Perth remained steady while Hobart saw the largest increase over the quarter at 3.4 per cent.
Melbourne posted the biggest rise in other dwelling median prices over the quarter and the year, taking the figure to $474,500.
Other dwellings are defined as a single self-contained place of residence other than a house, and include individual flats, home units, town houses and terrace houses. The only exception is for Sydney, where the definition of  'houses' includes houses, cottages, terraces, semi-detached dwellings, townhouses and villas, and 'units' include units, studios and duplexes.
"Rents for three bedroom houses remained unchanged in most capital cities, with the exception of Hobart and Darwin where median rents for three bedroom houses declined 8.3 per cent and increased 2.7 per cent, respectively," the report said.
"Rents for two bedroom other dwellings showed varied results across Australia; rents in Adelaide, Perth, Hobart and Darwin declined, rents in Sydney and Canberra increased while rents in Melbourne and Brisbane remained unchanged.
"Darwin remains the most expensive capital city in which to rent a three bedroom house at $540 per week. Sydney is the most expensive city in which to rent a two bedroom other dwelling with a median rent of $450 per week."
"There are signs of some slowing in the pace of global economic growth which may pose some challenges to policy makers to maintain stable economic performance," said Ms Bennett.
"Maintaining cash rates at the current level will provide respite to mortgage holders and stable economic growth."
First printed on http://www.spionline.com.au