Context is an important thing. Making a judgement based on a single piece of information that doesn't take into account broader factors can almost always be detrimental.
Take for example the rise in interest rates on loans made by the banks in the last week. Or the slight dip in clearance rates in Melbourne over the last weekend.
Looking at these indicators may give the more nervous property observers cause to chew their nails, or pessimists cause to think that these are the very early signs that the sky is finally starting to fall on the property market.
Hence why context is such an important thing.
If we look at the property market's performance over the last year, the results are nothing short of astounding.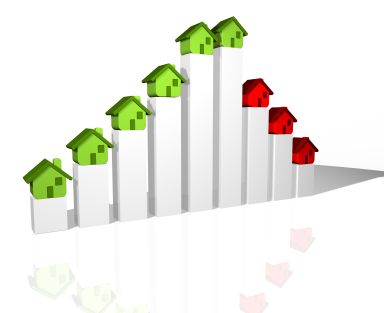 For example, the Victorian Valuer-General released the annual Guide to Property Values in July, which analyses property values over the previous twelve months, during which the median house prices in the state lifted by 4.8% up to $460,000. In the previous 10 years since 2004, house prices have risen by 70%.
The Melbourne metropolitan median price has now reached $729,500 for the September quarter, up 4.5% from the previous quarter.
The Adelaide Metropolitan median has risen over 50% in the last ten years, while Brisbane's metropolitan median house price is $610,000, up from $312,000 in 2004.
Median property prices may correct, but in the long run – and property is a long term game – they will continue to grow.
The banks are causing some consternation since rising the interest rates on loans last week. Again, context is important.
The Commonwealth Bank lifted variable investor rates 27 basis points to 5.72% on investor loans. A rise, yes, but not necessarily a hugely significant one.
It's important to remember at this point that the Reserve Bank of Australia is continuing to maintain record low interest rates of 2.0%.
Observing the previous tens year reveals just how low current rates actually are.
March 2nd, 2005: Increase of 0.25 points to 5.5%
December 7th, 2010: Unchanged at 4.75%
October 6th, 2015: Unchanged at 2.0%.
Honourable mention: On December 5th, 2007, rates were unchanged at 6.75%. Compared to toady's rates, this figure is almost unfathomable.
Considering these statistics, it's worth remembering a couple of things.
Firstly, and this is to reiterate the point just made, the economy is currently experiencing record low interest rates. Cash has never been so cheap.
Even if rates moved up 25 or 50 basis points in the next 12 months (and no one is saying they necessarily will), a 2.5% cash rate is still very low.
There is even talk that the RBA may need to lower the interest rate in the coming month. If this happens or doesn't, the current environment is almost as good as it is going to get to purchase property. Interest rates can't go down that much further, so if buyers are looking to get into the market, now is as good a time as it has ever been.
Secondly, it's equally important to remember that median house prices are only a guide to property value. The quality of the individual stock is almost always the strongest determining factor as to what it's worth. This sounds obvious, but can be forgotten at times.
Speculation of a slide in property prices has been more prominent in the last month or so, particularly the Macquarie Bank's forecast that prices will reduce approximately 7.5% from peak to trough over a two year period.
When a drop or slowdown in housing prices occurs remains to be seen. Regardless, the property cycle will continue, and buyers need to buy quality property to withstand the ups and downs of the market.
Even in strong performing areas, poor quality property will always have the greatest struggle appreciating, and be most susceptible to depreciating.
Numerous factors determine the quality of a property, but generally speaking, it will likely be more difficult for an off the plan apartment in a block of 50 to appreciate by a significant amount.
The Valuer-General's report contains a passage particularly relevant when considering the market: "There are many variations and exceptions to the overall trends. We encourage readers to investigate local sub-market groups thoroughly and then draw their own conclusions on the movements of sales and numbers."
The bottom line is doing the due diligence and seeking expert advice when purchasing a property will put buyers in the best position to secure a quality asset that will stand a stronger chance of appreciating in value.