Equity! That term is thrown around as the holy grail on how to build a property portfolio with seemingly no initial cash injections (deposits) on your behalf.
But what is it?
To put it simply, the equity in your property is the difference between its current market value and your remaining loan balance (debt).
Typically, when you buy a property, you inject some of your own money and the balance is tipped in by a bank or lender. The money you have put in is essentially the equity you have in the property.
How do you increase the equity in your property?
There are several ways to increase equity, but the 3 main ones are as follows:
Firstly, simply pay down your loan. The lower your loan to value ratio is the more you own, therefore the more equity you have in the property.
Secondly, wait for the property to appreciate in value through capital growth. This can occur quickly in some cases, depending on what stage of the property cycle you buy in.
As the property increases in value, so does the percentage of the amount of the property you own. In other words, the equity you have in the property increases.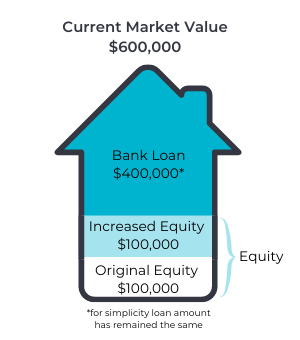 Thirdly, adding value to the property through capital improvements (for example extensions and structural and non-structural renovations). This means that you buy a property for a lower price, and then perform renovations to increase the value of the property as soon as the renovations are completed.
This strategy requires some homework – which means, you need to research and investigate what the end price of the property once renovated will roughly be. The result of that homework should result in you gaining a real good understanding of how much to spend on the renovation.
How do you access your equity?
To access or release your increased equity you need to talk to a mortgage broker or bank. Once you have determined how much equity you have, it can then be utilised for a number of purposes. For example, to increase your property portfolio by purchasing another property, performing renovations on your home, or simply use the funds to go on a dream holiday or purchase a car.
We spoke to Mortgage Broker Matthew Chik, from Moneyquest Balwyn to get some advice on accessing your equity. "There are a few common rules you should know about equity release. The first is, banks will generally allow you to release up to 80% of the current market value of your existing property."
Example
| | |
| --- | --- |
| Current Market Value | $600,000 |
| 80% of Current Market Value | $480,000 |
| – Current Loan Value | $400,000 |
| = Accessible Equity |    $80,000 |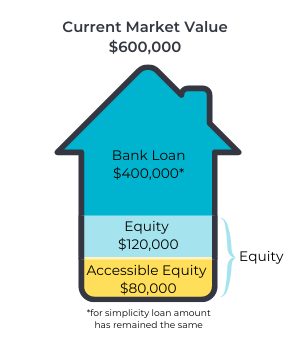 In this scenario, if you wanted to purchase an investment property you have up to $80,000 that you could contribute to the property, including paying the deposit. However, it is important to realise that accessing your equity is very different from withdrawing money from your offset or redraw account to cover your deposit.
Mr Chik explained "The equity released from your current property is not a form of free money, you are essentially taking out an additional loan of that amount, which means you will need to repay the equity loan similar to what you do for your home loan. You are accessing equity from capital growth or capital improvement of your current property."
It is also important you speak to your accountant before structuring your loans as there are different tax implications and benefits for home loans and investment loans.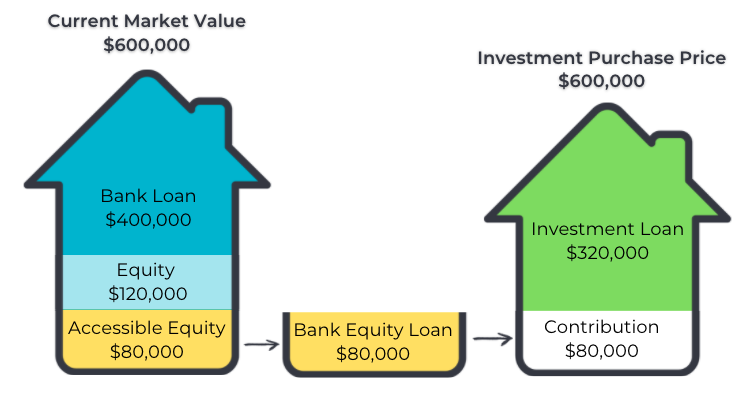 Is Equity the Holy Grail?
Equity is often used to leapfrog from one purchase to another to build a property a portfolio.
Mr Chik explains "The benefit is that you could purchase subsequent properties without saving the full 20% deposit, which means you could achieve your goal quicker."
So, absolutely it definitely has benefits.
However, it is important to have your A-team around you. A good mortgage broker and an accountant can help structure everything correctly to ensure you are best set up to achieve your finance goals. And it doesn't matter which strategy you choose to build your equity if you don't get the first step right. Paying the right price for the right property at the right time and this is where a Buyer Agent can really assist you.
We had to be part of the A-team!
What to find out more? Contact us today.