by Stephen McGee

Brisbane Property Seminar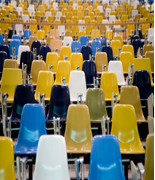 The Property Information Night hosted by National Property Buyers in Brisbane last month was a huge success and was attended by a full house. Guest speakers were fun and entertaining as well as being great sources of information about property, investing in property, SMSF & Tax depreciation.
National Property Buyers, QLD are hosting another event on property investing towards the end of this month in Brisbane.
If you would like to register your interest early please do so by registering here.
Free Rental Property Report in Brisbane
Please let us know if you would like a free report done on your rental property in Brisbane. Email [email protected] and just ask for a rental appraisal report – please include the address of the property and some info about the configuration.
Fastest Growing Suburbs in Brisbane in Houses
| | | | |
| --- | --- | --- | --- |
| Rank # | Suburb | Median Price $$ | Trend % |
| 1 | Brookfield | $1,078,000 | +28% |
| 2 | Gumdale | $880,000 | +17% |
| 3 | Lutwyche | $645,000 | +17% |
| 4 | Dayboro | $525,000 | +14% |
| 5 | Yeerongpilly | $505,000 | +12% |
Fastest Growing Suburbs in Brisbane Units
| | | | |
| --- | --- | --- | --- |
| Rank # | Suburb | Median Price $$ | Trend % |
| 1 | Bellara | $219,000 | +99% |
| 2 | Kedron | $424,000 | +26% |
| 3 | Clontarf | $365,000 | +22% |
| 4 | Sherwood | $425,000 | +19% |
| 5 | Woody Point | $323,000 | +15% |
NPB Property Management has listed some important tips to help make the most out of your investment property
1. Present it like a pro
With the market for rentals being so tight, potential tenants are quick to make decisions. Having a well-presented unit will give you the greatest opportunity to attract the best tenants and snap them up without delay. Scrimping and saving on costs is not the best way to go. Instead, consider installing quality bathroom and kitchen fixtures.
2. Have the property professionally cleaned
Always keep lawns mown and the outdoor area tidy for any inspections. Prior to letting, have the place professionally cleaned including carpets and windows. An attractive property helps to attract a good tenant who will look after it.
3. Use neutral and soft furnishings
It is a good idea to avoid highly personalised furnishing and colour schemes in order to appeal to a broader range of tenants. "The home needs to be fairly neutral. It's no good if your colour scheme is personal, because it might not appeal to many people out there in the rental market. Most people just want to move in and get on with their lives."
4. Use quality carpets and curtains
Stay away from cheap vertical blinds that blow and break when the windows are open. While they are cheap to install they don't help with the presentation of the property and need to be replaced sooner. Likewise, reconsider the type of carpets or flooring you will be installing. It should be tough enough to handle a lot of wear and tear, but still presentable. Some of the more modern office carpets are worth consideration.
5. Make sure things work
It's no good having a beautifully presented dwelling if a tap doesn't work. Ensure that all the basic facilities such as hot water system and plumbing are functioning well. Check that all doors and windows are properly maintained and have secure locks. Ovens, kitchen elements and refrigerators should also be fully functional and well cleaned. Consider getting these checked and serviced on a regular basis. By ensuring that your property is in good condition through regular maintenance, you avoid costly repairs further down the track.
6. Throw in some extras
Most tenants come with their own appliances and nick-knacks. However, some extra amenities – such as a dishwasher and air conditioning – can be a deciding factor for a lot of tenants. Unfortunately, any facility or amenity you put in is your responsibility to maintain or repair. This means that if they break, the cost will come out of your wallet.
7. Install built-in cupboards and wardrobe cabinets
Cupboards are painful to move, and hard to live without, so people tend to rent places with lots of built-in storage.
8. Provide a separate internal laundry facility if possible
You don't need to supply the machine, but if the laundry area is internal and separate, it could be a huge benefit. "It's one of those things that you yourself will consider an essential feature.
9. Car parking is a big plus, especially in city dwellings
Providing an off-street covered and lock up garage will enhance your property value considerably.
10. Keep gardens simple
Gardens may help boost your rental value in theory. Try to keep gardens fairly basic. It is not practical  to have a garden full of plants and expect your tenant to take care of them.
11. Set realistic expectations
Trying to get the highest rent may not necessarily result in a better rental return if you cannot keep reliable tenants. It's crucial that you don't price yourself out of the market by embarking on a very expensive renovation.
12. Go for long-term tenants
The benefits of establishing long-term tenants include: less need to redecorate and renovate between leases; long-term tenants tend to take care of the property for themselves; less vacant time means more returns in the long run.
GE Mining Global calls Brisbane home – Article
US-based corporate major GE's (General Electric) newly launched GE Mining Global will call Brisbane home as it consolidates its expansion into the $60 billion world mining equipment and energy markets.
Deputy Premier and Minister for State Development, Infrastructure and Planning Jeff Seeney welcomed the announcement and said the company's decision to locate in Brisbane was a vote of confidence in Queensland.
"GE Mining's new Chief Executive Officer Geoff Knox has told US media the new business will help mines address critical power, water and productivity issues," Mr Seeney said.
"Investments such GE's help strengthen the Queensland economy and create new jobs, and the department's Invest Queensland unit proactively targets these international investments.
"The company's decision to invest in Queensland further validates Brisbane's place as a global hub for mining and engineering services.
"They will be taking advantage of the world class skills, research and manufacturing Queensland has to offer.
"GE's new offices in Brisbane will put them in the company of several international mining companies which have also chosen to call Queensland home".
GE has indicated the establishment of GE Mining Global followed its recent mining sector acquisitions of Queensland manufacturer Industrea Ltd and US-based Fairchild International.
The investment further reinforces GE's presence in Queensland with existing operations servicing the healthcare, aviation and energy industries.
Mr Seeney said GE was already an active player in the mining industry providing products and services to mining companies, including rail locomotives, water desalination systems and electrical turbines. "Queensland's international reputation as one of the great mining regions will be further enhanced by GE's decision to operate this business unit here in Brisbane."
Source- Courier Mail
First home owner construction grant – what does it really mean?
The 2012–13 Queensland State Budget introduced the first home owner construction grant (FHOCG), which will be administered under the First Home Owner Grant Act 2000.
The grant is available to first home owners who will be buying or building a new home.

This grant of $15,000 is available for:
contracts to buy a new home (including off the plan) dated on or after 12 September 2012
contracts to build a new home dated on or after 12 September 2012
new homes being built by an owner–builder where the date the foundations start to be laid is on or after 12 September 2012.
A new home is a home that:
has not been previously occupied as a place of residence
has not been previously sold as a place of residence
or
is a substantially renovated home (in certain circumstances).
The $15,000 grant will not be available:
if the contract replaces an existing contract made before 12 September 2012
for new homes where the contract is dated before 12 September 2012
for owner–builders where the date the foundations start to be laid is before 12 September 2012
established homes.
The FHOG eligibility requirements also apply to the construction grant, including a cap amount of $750,000.
You may still be eligible for:
the $7,000 first home owner grant for established home purchase contracts dated before 11 October 2012
a transfer duty concession when buying an established home.
Capital City and Capital Growth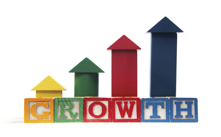 This data highlights the significant increase in home values over recent years. The much more subdued growth in home values over the past five years is likely to be a better indication of how capital gains are likely to play out over the coming years rather than the exceptional value growth recorded over the first five years of the past decade.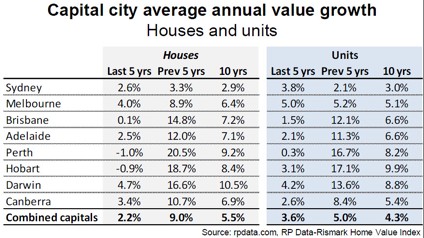 Over the past decade, Darwin and Perth have been the standout performers for capital gains for houses with this trend largely fuelled by exceptional growth between August 2002 and August 2007. For units, Hobart and Darwin have been the standout performers over the decade with the exceptional growth once again fuelled by the performance over the first five years of the decade.
Another important trend which has emerged over the past five years is the superior capital growth performance of units compared to that of houses. Across the combined capital cities, units have recorded average annual growth of 3.6% over the past five years compared to 2.2% growth annually for houses. Across individual capital cities, the unit market performance has outperformed that of detached houses over the past five years in Sydney, Melbourne, Brisbane, Perth and Hobart. This is most likely a response to affordability constraints present in the market and subsequently buyers seeking more affordable alternatives to detached houses.