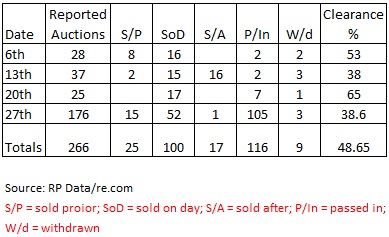 The market continues to move in Brisbane with an unseasonal high clearance rate of 48% for the month of July.
Agents are again reporting great price increases, and one agent I spoke with about a property in Camp Hill reported that 20 people attended the Open for Inspection. This resulted in the owner receiving in excess of 10 purchase offers, with most of these considerably higher than the advertised listed price.
Is this great marketing? Is this an influx of buyers to the market? Was the property advertised to cheap?
It all does not matter because the fact is that most buyers now have access to a huge amount of resource data available at their fingertips. I prefer to credit this scenario to a great property, in a great area, being sold for market prices.
Another great NPB Bus Tour was held in July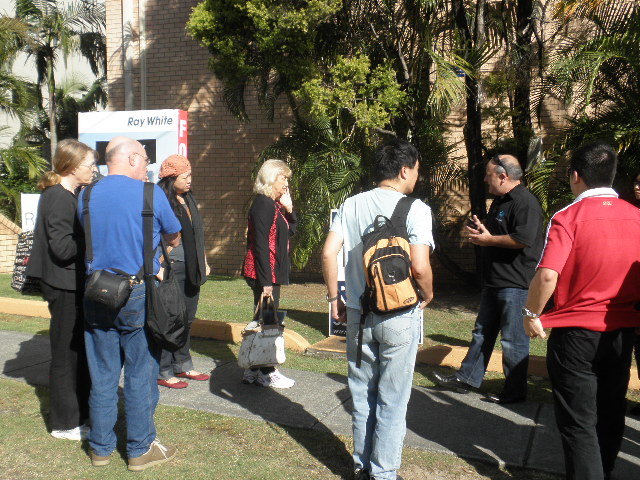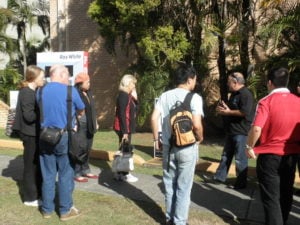 NPB Brisbane conducted another sightseeing tour around the hot spots of the Brisbane Property market.
Here is what some of the passengers said:
"Great Trip"
"Excellent info and in real time"
"Most worthwhile"
"Did not realise the market was moving so fast"
We viewed a great unit just purchased in Kangaroo Point and demonstrated how the ability to add value to a property can greatly increase your wealth.
We attended an auction of a block of units, 4 in all and all on individual titles.
We shared info on how a group of friends or family can purchase a block of units collectively and for wholesale prices. If you would like to find out more please email Stephen McGee.
Our partners in property, Mayhill Urban Planning and Architecture, also gave us a face to face overview of small scale property development. If you would like to know more about this topic then please contact us.
Capital Growth or Cash Flow
When you are considering buying a property, it needs to be regarded as possibly the single biggest asset you will ever purchase.
Why then do the majority of home buyers all seem to take it lightly?
I have spoken to so many people this month about their property investing dreams. The commonality is that investing was considered as a "no brainer", and that people thought that it was a certainty to make them money.
If I got a dollar from every person I have heard this from in the last 8 years, I could comfortably retire today.
Buying a property is not to be taken lightly especially when the motivation for the purchase is for the property to grow in value and fund your retirement. It is very hard to undo what has been done already!
The main benefit that people tend to seek is cash flow or simply put; more income than it costs to fund.
That is all well and good if the property is bought in a high capital growth area, but typically when buying a property in well regarded areas, that consistently outperform the market in capital growth, it is very rare to expect the purchase will be cash flow rich.
Take a moment to view the chart below. This demonstrates the effect that purchasing an investment property based solely on yield can have on the performance of your property.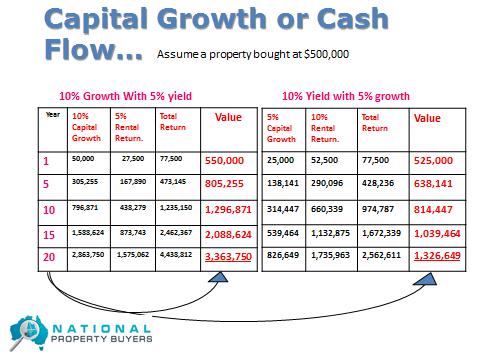 Property investing is a business and cannot be halfhearted or part time. Please make a time to meet with me to discuss your property requirements and expectations.
Is the Gold Coast recovery coming?
Since the Global Financial Crisis (GFC), property developers on the Gold Coast have experienced difficult times, with many companies in receivership and an oversupply of prestige properties and apartments.
This has seen price falls of the order of 20% to 50% from the peak. Five years on, the market generally has established a new level and the supply of new properties has reduced. Read more here.
What is the world coming to?
Take a look at the report that our friends at Macquarie Banking Private Wealth have released.
The report explores the key trends shaping the world economy, highlighting opportunities – as well as potential areas of concern – for investors. The report aims to help you make sense of today's complex and dynamic economic environment, and keep you up-to-date on the trends that matter.
Click here to view the report.
Where to from here for home values?
According to the RP Data-Rismark Home Value Index results for June 2013, combined capital city home values increased by 3.8% over the 2012/13 financial year. The growth in home values has been moderate, as we have noted in recent weeks, the response to the low mortgage rate environment has not been as strong as in the past. This begs the question where to from here?
Click here to read more.
Top Performing Suburbs in Brisbane
Fastest Growing Suburbs in Brisbane – Houses

Rank #

Suburb

Median Price $$

Trend + %

1

Spring Hill

$655,000

+40%

2

Rocklea

$285,000

+21%

3

Lowood

$320,000

+20%

4

Nundah

$500,000

+17%

5

Hamilton

$853,000

+17%
Fastest Growing Suburbs in Brisbane – Units

Rank #

Suburb

Median Price $$

Trend + %

1

Bellara

$268,000

+70%

2

Albion

$561,000

+38%

3

Balmoral

$523,000

+26%

4

Camp Hill

$475,000

+19%

5

Paddington

$495,000

+16%