The last quarter of the financial year has seen some significant movement in various areas of the Brisbane market.
In the city the usually quieter start to the year held true to form, however the overall sales volumes for property in the city is up on the same time last year.
Although the median house price has dropped 3.3% over the quarter due to a dip in activity primarily in the upper brackets of the market, the median house price has actually risen 7.2% from this time last year. Median price hot spots have included Highgate Hill (up 35.6% from this time last year) and Balmoral (up 31.5% over the last five years).
Our picks to watch out for in the last Market Wrap Up have all recorded median growth from the same time last year, with Moorooka (7.3%) and Mount Gravatt East (8.2%) recording significant increases.
Units are moving off the market at a greater pace, spending an average of 2 weeks fewer than this time last year. Rental markets have also improved with inner and outer suburbs setting a 2.5% vacancy rate compared to the end of December. According to the REIQ Market Monitor, local agents are seeing increased activity in the outer suburbs as tenants seeking more for their money or being priced out of the market in the inner city.
June Auction Snapshot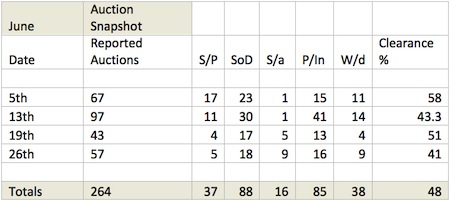 s/p = sold prior; SoD = sold on day; S/a = Sold after; P/In = Passed In; W/d = Withdrawn
Top Performing Suburbs in Brisbane
Fastest Growing Suburbs in Brisbane – House

Rank #

Suburb

Median Price $$

Trend + %

1

New Farm

$1,207,000

+27%

2

Yamanto

$420,000

+25%

3

Corinda

$648,000

+23%

4

Cornubia

$575,000

+21%

5

Bulimba

$990,000

+19%
Fastest Growing Suburbs in Brisbane – Unit

Rank #

Suburb

Median Price $$

Trend + %

1

Upper Mount Gravatt

$449,000

+21%

2

Yeronga

$491,000

+18%

3

Kedron

$410,000

+17%

4

Ashgrove

$476,000

+10%

5

Spring Hill

$425,000

+9%
Clearance Rates
Much has been written about the heat in the Melbourne and Sydney auction markets in recent months. In case you have been living under a rock, both markets have been seeing quite extraordinary action for an extended period of time.
But what hasn't been spoken about so much is the significant increase in clearance rates in the Brisbane auction market. Traditionally more cautious towards auction sales, Brisbane has in recent weeks seen record clearance rates.
The Melbourne market has slowed over the last month or so (well, comparable to recent times anyway) as the winter chills settle in and families head away over school holidays.
Since the week ending on the 14th of June, clearance rates in Melbourne have dipped from 80% to 79% (21st of June), 79% (28th of June), and 77% (5th of July).
The Brisbane market however, has been pushing strongly to significant figures over the same period.
National Property Buyers Queensland State Manager, Stephen McGee said of the auction process in Brisbane that buyers are "jumping into the auction pool with encouragement from agents".
Interest rates set at an all-time low coupled with returning confidence from the 2011 Brisbane floods, and confidence stemming from the strength of the market generally, the increased clearance rates are a "symptom of the market". Over the last five weeks, clearance rates have averaged 54%, compared to 37% in June of last year.
According to Steve McGee, another factor could be confidence of a younger generation of selling agents who have come through during an exceptionally strong period. "Agents are seeing the superb results of Melbourne and Sydney and there's an awareness of the excellent outcomes you can get at auction now" McGee said.
It will be interesting to see how this trend continues.
Steve's Investment Tips
Queensland State Manager, Steve McGee shares some of his points of wisdom when beginning your investment journey.
I was asked a question recently on the best time to begin the search for an investment property. I thought long and hard about my response to this question and considering my answer, I recalled some sage advice that was given to me by one of my early property mentors.
Read on and I will share with you some of that steps that you need to get in place when you start your own search.
Mind Set:
Ask yourself this question: is it better to start late or not at all?
Most of the Australian population will not be able to retire on their super alone. The sooner you can get into investing in property the better. When you finally do retire, you will have additional equity and income to supplement your superannuation.
In my experience, the biggest leap that over 40's will encounter when buying their first property is conquering the age old mind set of "debt is bad and must be avoided" and "we must work harder to earn more money".
In my experience, younger generations don't have the same preconditioned outlook to debt and are therefore more willing to jump into the market and take on the risk.
You must work on changing your mind set and start breaking the old money habits. It may seem daunting at first, but investing in property can pay off significantly in the long term.
Get Used to Risk:
Different people have different attitudes towards risk and this can be a major factor in determining how successful they will be in property investment, particularly over a short time.
Most over 40's would-be property investors will have a certain level of equity in their home or even own them outright. This can then be used as a kick start into an investment property after firstly ascertaining and developing an appropriate strategy for the property investment journey relevant to their circumstances. There are always factors to take into account, particularly comfort levels and loan to value ratios that will play a part the investment strategy.
Your strategy will depend on what level of debt you are comfortable with taking on, but accepting that in every investment there is an element of risk.
Start Implementing a Plan:
Once you know exactly what you want to achieve in your investment and have set a concrete goal as to what you are seeking, you need to formulate and implement a plan to get you there.
The biggest thing that most would-be property investors do is NOTHING.
Too many times I have seen investors talk about what they want to do, yet do nothing about accomplishing that goal. Goals are worthless without the commitment to call to action.
Make a plan. Set the goals. Implement the steps to start. Check your plan as you go along your journey and adjust as you will to keep on the path that you mapped out for yourself.
The earlier you can implement a plan and gain entry into the market, the better.
Keep Going – Never give up
I am sure along the way you will encounter "road blocks" and you may lose track of the vision you originally set out to realise. When you do get knocked down, it's vital to get back on the horse and keep going. If you miss out on the perfect house, don't worry. There will be another one somewhere that will still meet your criteria.
The best thing that you can do when searching for a property – this was always insisted upon by my mentors – is to increase your networks and find other people who are doing the same as you. Seek out property networks or investment clubs, join groups on social media. Find as many ways to stimulate your engagement in the property market.
These steps have always rung true for me when investing in property, and I hope they do the same for you.
Happy hunting!
The Slump in Queensland Resales
The Core Logic RP Data's Pain and Gain Report – March Quarter was released last month and it did not reveal good news for resale values in regional Queensland.
Of all metropolitan and regional areas, Regional Queensland recorded the highest percentage of resale loss for houses vs. units at 21.5% according to the Core Logic data. Following in second place was Regional Tasmania at 20.8%, and Regional South Australia at 20.1%.
Regional centres in Queensland recorded four out of the five highest loss-making resales result for the March Quarter. Mackay recorded 45.5%, followed by Townsville (30.7%), Wide Bay (28.3%), and Fitzroy (26.5%).
The report also found that across the market, homes held between 7 to 10 years were most likely to record a gross loss (16%) with homes held for a decade or more were least likely to record a gross loss.
This data reaffirms the views of Queensland State Manager, Steve McGee, who throughout his experience has found that "10-15 kilometres from the CBD is the best investment opportunity in any capital city, and to commit to an investment over the long term will generally yield you the best result."