Brisbane Auction Clearance Rates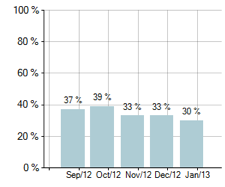 A slight decrease in the auction clearance rate throughout December and January should not alarm home buyers. At the corresponding time last year we were sitting on a clearance rate of 22%. So the fall in auction activity at this part of the year is to be expected.
On the local front in Brisbane I can confidently report that the market is still alive and kicking and slowly heading in the right direction. Buyers' sentiment is returning and sellers are achieving close to market values again.
Rental yields still tight (1.9%) and are predicted to remain so. All of this would certainly indicate an increase in confidence from investors.
Get on Board the NPB Bus Tour around the Property Hotspots of Brisbane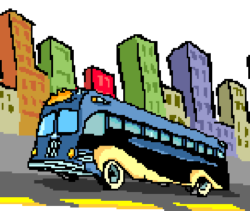 Following on from a great success in the NPB Melbourne office, and in the quest to make National Property Buyers-Brisbane the leading Property Buyers Agency and Property Advocacy Service in QLD, we are rolling out on our own Brisbane property Bus Tour.
Let us take you around the local property hot spots and demonstrate to you what and why we buy in these areas.
We will take you to a live auction or two and we can share in price guessing.
Take a ticket and chat to our guest finance broker who will be on board.
Register your interest by email to Stephen McGee at this email address – [email protected]
Is the age of 40 too late to start on the Property Wagon?

An old friend recently asked me a question: "Steve, I am on the other side of the big four zero now; is it too late for me to start investing?"
I had to think long and hard about my response to her being careful not to throw her straight into a property buying frenzy and I remembered some advice that I was given by one of my early property tutors.
So, if you are approaching the magical 40…read on and I will share with you some steps that you need to get in place to get started.
Mind set – ask yourself the question is it better to start late or not at all?
Most of the Australian population will not be able to retire on their super so the sooner the better to investing in property. The biggest leap that the over 40s will encounter is conquering the age old mind set of "debt is bad and must be avoided" and "we must work harder to earn more money".
You must work on changing your mind set and start breaking the old money habits.
Get used to Risk
Different people have different attitudes towards risk profiles and these will determine how successful they will become in property investing especially in such a short time period.
Most over 40 would be property investors would have a certain level of equity in their home or even own them outright. This can then be used as a kick start into an investment property after firstly ascertaining and developing an appropriate strategy for the property investment journey. Things like Comfort levels and Loan To Value ratios will play a part in the property strategy.
Start on Implementing a Plan
After some concentrated goal setting it is then time for the probably most crucial part of all.
The biggest thing that most would be property investors do is NOTHING.
Goals are worthless without the commitment to call to action.
Make a plan, set the goals, implement the steps to start, check your plan as you go along your journey and adjust as you will to keep on the path that you mapped out for yourself.
Keep going – Never give up
I am sure that along the way you will encounter "road blocks" and you may lose track of the vision of what you set out to achieve but one thing that half a lifetime of experience should have taught you by then is that when we fall we must get back up and get back on the horse.
A good idea that my past property tutor always insisted upon was to increase your circle of friends, join property networking clubs and associate with other people who are doing the same thing.
To fix or not to fix?
Fixed home loan rates are at 20 year lows as the banks battle it out for your business. Is it time to fix all or part of your loan?
Making the right decision could save you thousands. If you want the security of locked in monthly repayments at low rates, it's a great time to consider fixing or splitting your home loan. But fixed rates aren't for everyone. If your priority is to pay down your loan as fast as possible, a low variable rate can help shave years off your mortgage and save you thousands.
Article originally published here.
Housing market on increase across Capital Cities
The housing market is looking good for investors as Brisbane recorded a rise of 2.3% last year.
Read full RP Date Market update here.
Many First Home Buyer Incentives have gone, but Low Rates are Helping
Most of the first-home buyer incentives have gone, but some determined young purchasers have found a way to fix their place on the property ladder.
Industry insiders say current low rates are just the carrot on a stick to give uninitiated buyers confidence – and fixing them for one to two years could seal the deal.
Read full article here.
Top Performing Suburbs in Brisbane
Fastest Growing Suburbs in Brisbane in Houses

Rank #

Suburb

Median Price $$

Trend + %

1

Brookwater

$517,000

+46%

2

Wilston

$910,000

+28%

3

Chelmer

$912,000

+27%

4

Burpengary

$412,000

+11%

5

Heathwood

$572,000

+10%
Fastest Growing Suburbs in Brisbane in Units

Rank #

Suburb

Median Price $$

Trend + %

1

Bellara

$269,000

+132%

2

Lawnton

$355,000

+29%

3

Balmoral

$510,000

+28%

4

Redcliffe

429,000

+23%

5

Sherwood

$419,000

+21%