The property market in Brisbane continues to surpass most people's expectations. Those new into local real estate will swoon at the level of buyer's activity currently being shared across most areas within 15kms of the Brisbane CBD.
Camp hill for example is going from strength to strength (those NPB customers who have been getting these emails regularly will note that we predicted this suburb growth in early 2013).
We witnessed a sale of a property in Sydney Ave. last week for a figure very close to $1m that last year would have probably achieved only high $800's.
Properties are still receiving multiple offers from buyers within a day of being listed for sale. It is not uncommon now for agents to have 2 – 3 Open Homes at properties that they know will be in demand.
Brisbane Property Markets are Still on the Move – Join us on the NPB Brisbane Bus Tour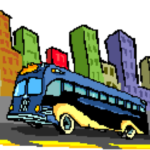 You can't keep ignoring this opportunity to get on the property ladder!
The time to buy and reap future capital growth is NOW!
Spend time with a Property Expert by joining us on the Brisbane Property Market Bus Tour for home buyers and investors.
When: Saturday 30th August 2014.
Time: Pick up 9:20am – Depart 9:30am Sharp!
Place: Loading one opposite Soho Building / NPB Office, Cnr Cordelia & Peel St, South Brisbane.
Drop Off: 2:30pm approx.
Tour Highlights:
We will show you areas in Brisbane that are happening right now and share with you our predictions for future growth areas.
We will share with you our criteria for an investment grade property & visit both good quality and inferior investment properties.
We will visit some live examples of how to do development for profit!
Do you want to create wealth through property by purchasing under the intrinsic market value?
Find out how you can manufacture equity and also dramatically increase the rent and increase the yield.
If you don't have time to renovate – no worries! Our renovation contacts can upgrade the property on time and on budget.
Do you want to know how to catapult your wealth from Property development?
We will have a guest speaker from one of Brisbane's leading urban design and Town planning companies who will guide us through a working project.
We will visit a live auction and show you tips of negotiating at an Auction for success.
Auctions can be incredibly frustrating for buyers and we will arm you with the tactics to become a successful bidder at auction.
You will learn:
How to structure a bidding strategy.
Tips and tricks to have the auction run your way.
We also have a prize for the person who can guess the closest selling price. Meet other investors and home buyers in a fun, informal and relaxed environment. Informative commentary by Brisbane Property Expert Stephen McGee, State Manager of NPB QLD.
Light refreshments included.
Simply send us an email at [email protected] to reserve your free seat/s (please tell us how many seats you'd like).
Brisbane Auction Snapshot, July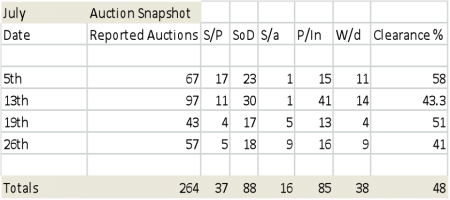 S/P = sold prior; SoD = sold on day; S/a = Sold after; P/In = Passed In; W/d = Withdrawn
Top Performing Suburbs in Brisbane
Fastest Growing Suburbs in Brisbane – Houses

Rank #

Suburb

Median Price $$

Trend + %

1

Balmoral

$848,000

+24%

2

Seventeen Mile Rocks

$550,000

+19%

3

Hawthorne

$894,000

+19%

4

Ascot

$1,128,000

+18%

5

New Farm

$1,000,000

+17%
Fastest Growing Suburbs in Brisbane – Units

Rank #

Suburb

Median Price $$

Trend + %

1

Deception Bay

$269,000

+26%

2

Morningside

$488,000

+24%

3

Newstead

$775,000

+21%

4

Greenslopes

$365,000

+16%

5

Brisbane City

$495,000

+13%
Our Top Tips to Finding that GREAT Investment Property
The purchase of a property will in most cases be the most expensive transaction you will be involved in. So it makes sense that you apply some rules and common sense to the process.
Most investors buy properties close to home, their comfort areas, however you should still apply a minimum amount of due diligence to the process, in your own back yard or not.
Here are my top tips to help you along the way:
1. Choose your area.
I would suggest looking in areas that your price range is suited for. Subscribe to a resource provider and get to know your areas well and what drives growth in that particular area.
Make sure you get friendly with local agents and they can keep you informed of activity in the smaller areas within those areas. All suburbs have cycles and micro cycles. Get to know them.
2. Research.
Get to know the property types and sales data, time on market and discounting from listing price to sales price. This will all become invaluable information for you.
3. Hit the pavements.
Inspect as many open houses as you can and monitor sales of them. As you record the data you will get to know trends and pricing in that area and you will then be familiar with any opportunity that you see and have the ability to make a decision fast.
4. Give up your weekends.
Attend as many auctions as you can as this will give you an insight into buyer's prices in the area about 2 weeks before it is common knowledge. Again arming you with that all important information for when you find that opportunity.
5. Practise your negotiating skills.
The way that you approach an agent and seller can sometimes determine the level of discount you are able to get. Its not where you start it is where you finish that counts and different strategies can translate into good cash savings on a property. Spend time with investor meetings and get to know their methods and tricks.
6. Buy at the right price!
This is as important as buying in the right area.
Even if you bought an average property in a good area you can at least make some changes to it to catapult its performance. But it is important to make sure you get the property at a good price otherwise you will be spending the first couple of years playing catch up.
Make sure you know your areas and your prices. Armed with that knowledge you can do your own CMA on any property that you like and will have a reliable value within 5 minutes.
Brace Yourself Brisbane!!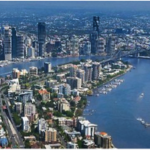 Brisbane's median house price increased by 6.9% in the year to June 2014, according to new data from Australian Property Monitors.
On a quarterly basis, Brisbane's median house price rose by 1.5% – the eighth consecutive quarter of price growth for the city. The city exhibited the third highest quarterly and yearly rate of growth of any capital cities (behind Melbourne and Sydney).
Click here to read the full details.
LIFE just keeps getting Better and Better!
Brisbane is the 25th Most Liveable City in the World!
Courtesy of Matusik Missive.
Monocle has just issued its eighth annual Quality of Life Survey of the top 25 cities in the world.
And as our Missive title suggests, three Australian cities have made the cut.
Firstly, Monocle is well worth a read. The July/August issue is their 75th. Go to www.monocle.com to find out more. Their app is also worth downloading – it includes fantastic podcasts about urban issues, among other things. Click here to visit the site.
National Property Buyers Brisbane Welcomes Tracey Farrell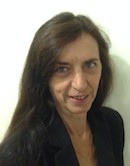 We are pleased to announce the appointment of Tracey to lead our property management team and join us on our quest to offer the most superior Property Management service In Brisbane.
Tracey brings a world of experience to the NPB team and is excited to take us on our next level of growth.
To chat to Tracey and take advantage of her one time only offer for a full analysis of your current Investment Property Management please email her at [email protected]
Start of Financial Year
So another financial year is over and tax time is about to reveal if you are running your property portfolio as a business or not. Using rental income to pay off your investment debt is not the only way of maximising your income from your investment.
Here are my tips on how to get your house in order for the start of the financial year.
It's time to clean up, shape up, and ship out all those bad habits and get your house in order.
Tips to consider:
Landlord Protection Insurance:
Even with efficient Property Management in place, tenants' situations change, ie loss of job, sickness, separation and relationship breakdowns. This is when Landlord Protection Insurance comes into play. When choosing a policy, price should not be the deciding factor. Look at cover and the benefits provided.
Tax depreciation Schedule report.
This is a great method of putting money into your piggy bank, but often overlooked. Everything has a value but as an investor you need to know that you are getting the maximum depreciable value you can for your property and its attributes. We often take over the management of properties and it's clear that many landlords are not aware of this technique.
Valuation of your Investment Property:
To ensure you are keeping in touch with the current market, ask your Property Manager to arrange a review of your portfolio. This ensures you have insurance values correct and lets you know your equity standing in the property. In this upwardly moving market, the time is now to utilise this equity towards a second or subsequent property!
Electronic records of income & expenditure:
Don't leave it till June 2015 to ensure all your PM Statements are easily accessible and on hand. Set up a "folder" on your computer/laptop to ensure easy reference and forwarding to your accountant at tax time. NPB customers will appreciate our "Property Hub" web based portal where all statements, invoices etc. are dropped and stored each week to enable direct access and transfer to your tax man.
Efficient Property Management:
To maximise the value of your Investment, it's essential to have a good working relationship with your Property Manager. This means, he/she knows your property intimately, has excellent communication with you – and your tenants, and acts quickly and efficiently to fix problems, rectify issues and most importantly, keep you informed at all times.
Effective Loan structures and rates:
Make sure that you visit your financier & Tax advisor regularly to evaluate your loan position and structures of the loans. A dollar saved here is a dollar to spend there! NPB clients have access to all of our trusted panel of independent experts to help them with all of their financial needs.
Summary:
All points above that you can tick confirm that you are in good Property Management shape.
Items with cross should be transferred directly to your "To Do" list and acted upon immediately!
.