A significant increase in buyer activity has resulted in properties selling again on the first weekend of listing.
NPB Brisbane has seen the return of Multi Offer situations to the market-place again in numbers last witnessed well over a year ago.
River front properties are also back in fashion again with sales figures picking up and values holding their own again in a side of the market that has been very depressed lately.
Join us on the Brisbane Property Market Bus Tour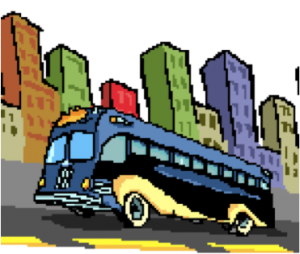 Want to learn from a property expert?
Get on Board the NPB Bus Tour around the Property Hot Spots in Brisbane
Be guided through some of Brisbane's high growth areas and hear our tips for potential future growth areas.
We will show you what we believe determines a good quality property investment and an inferior property investment.
Informative commentary by NPB QLD Property Expert Stephen McGee.
Meet other investors and home buyers in a fun, informal and relaxed environment.
Attend open for inspections learning what to look for when buying a home or investment property.
Auctions can be incredibly frustrating for buyers and we will arm you with the tactics to becoming a successful bidder at auction. You will learn:
The auction psychology
How to structure bidding strategy
Tips on how to have the auction run your way
We also have prizes for "who can guess" the closest selling price.
Light refreshments included
Date & Time TBA – seats will be limited so please register now by contacting Stephen McGee.
Depreciation: the LOW DOWN
Understanding the basics of depreciation is a must for all property investors. In short, it is a tool that will leave you with more money in your bank account each year at tax time.
WHAT IS DEPRECIATION?
Depreciation is basically a Tax deduction available to property investors.
Depreciation allows you to claim for the wear and tear experienced over time for an investment property. This tax deduction recognises the fact that building itself, as well as its plant & equipment become worn out over time and will eventually need replacing.
Like any tax deduction, depreciation basically reduces your taxable income, so basically if your income was $100,000 and you had deductions of $10,000 for the year, you only pay tax on $90,000.
Ask yourself some questions:
Is it too late for a Depreciation report?
How is it calculated?
I own an older style property, should I bother claiming?
Why do I have to use a Quantity Surveyor?
What is a residual write off?
9 out of 10 property investors pay too much tax…don't be one of them!
Contact Stephen McGee and we can introduce you to one of our "Partners in Property" who can make sure that you are getting the best out of your investment.
Brisbane gains ground on southern capitals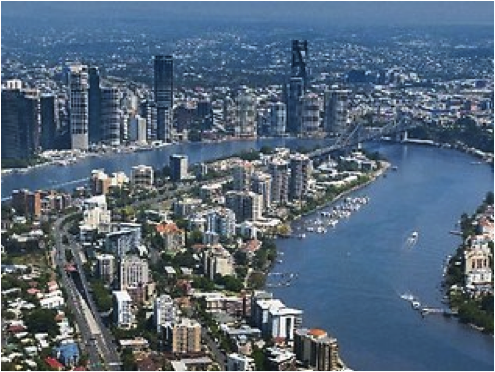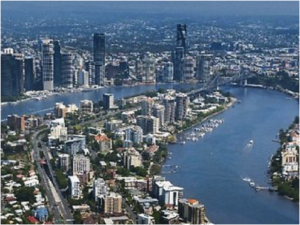 BRISBANE has been tipped to become Australia's new trend capital, overtaking Sydney and Melbourne as the best place to live, work and play.
Click here to read full article.
Market Snapshot of Australian Capital Cities in 2012
Click here to view the full detail report from RP Data.
No Pain, No Gain?
Over the three months to December 2012, 13.0 per cent of all homes sold, transacted at a price lower than their previous purchase price compared to 31.8 per cent of homes which sold for more than double their initial purchase price.
Click here to view the full detail report from RP Data.
The Property Brick Wall…"NOISE POLLUTION"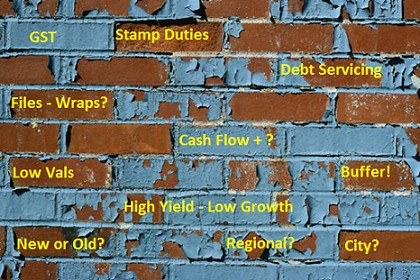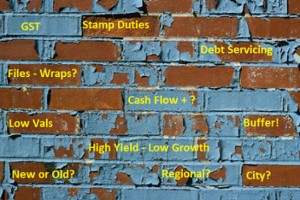 When people consider buying an investment property or even their own home they are confronted daily with events and issues that can alter their thought process to buy or not.
These are just some of them that may be here today and gone tomorrow.
Please talk to Stephen McGee and ask how we can help you systematically get over this wall and onto the property ladder.
Top Performing Suburbs in Brisbane
Fastest Growing Suburbs in Brisbane – Units

Rank #

Suburb

Median Price $$

Trend + %

1

Bellara

$264,000

+128%

2

Newstead

$685,000

+43%

3

Lawnton

$355,000

+29%

4

Balmoral

$515,000

+25%

5

Brendale

$331,000

+18%
Fastest Growing Suburbs in Brisbane – Houses

Rank #

Suburb

Median Price $$

Trend + %

1

Brookwater

$505,000

+43%

2

Chelmer

$948,000

+32%

3

Wilston

$878,000

+25%

4

Nundah

$494,000

+15%

5

Augustine Hgts

$508,000

+14%