The property market in Brisbane continues to gain momentum again after a sluggish start to 2015 and some great opportunities are being had by smart buyers.
Well located properties are still receiving multiple offers from buyers within a day of being listed for sale.
It is not uncommon now for agents to have 2 – 3 Open Homes at properties that they know will be in demand just to get all of the potential buyers through the property.
Outer ring suburbs on the south side are my picks for significant capital growth over the next 12 months so look in areas such as Moorooka/Yeerongpilly/Mt Gravatt & Mt Gravatt East. We have also noticed some upwards movement in values in the bayside's Wynnum & Manly areas.
These areas in particular are earmarked for commencement of a number of boutique style residential developments over the next 12 months.
Brisbane Property Markets Still on the Move
Join us on the NPB Brisbane Bus Tour!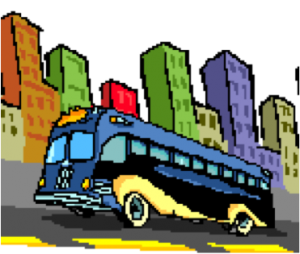 You can't keep ignoring this opportunity to get on the property ladder!
The time to buy and reap future capital growth is NOW!
Spend time with a Property Expert by joining us on the Brisbane Property Market Bus Tour for home buyers and investors.
When: Saturday 06th June 2015.
Time: Pick up 09.20am – Depart 09.30am Sharp!
Place: Loading zone opposite Soho Building / NPB Office, Cnr Cordelia & Peel St, South Brisbane.
Drop Off: 2.30pm appx.
Secure your free seat/s now by contacting Stephen McGee on 07 3844 7376 or by email.
March Auction Snapshot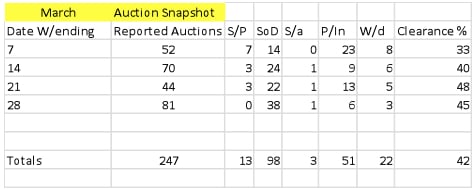 s/p = sold prior; SoD = sold on day; S/a = Sold after; P/In = Passed In; W/d = Withdrawn
Top Performing Suburbs in Brisbane
Fastest Growing Suburbs in Brisbane – Houses

Rank #

Suburb

Median Price $$

Trend + %

1

New Farm

$1,170,000

+26%

2

Ascot

$1,200,000

+25%

3

Chelmer

$1,038,000

+23%

4

Murarrie

$583,000

+20%

5

Kangaroo Point

$580,000

+20%
Fastest Growing Suburbs in Brisbane – Units

Rank #

Suburb

Median Price $$

Trend + %

1

Kedron

$425,000

+25%

2

Brendale

$335,000

+20%

3

Kallangur

$332,000

+15%

4

Fortitude Valley

$470,000

+13%

5

Ascot

$430,000

+12%
Up – Up & Away….Skytower: Construction of Brisbane's tallest tower set to begin
Source: Brisbane Times 7th April 2015
It is set to tower over Brisbane's CBD, but only a third of the investors who have bought a slice of the Skytower are actually from the Sunshine State.
Construction is only weeks away from beginning on the city's tallest skyscraper, a 274-metre high tower at 222 Margaret Street that will house 1119 apartments.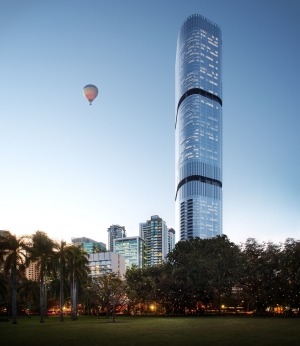 Sydney-based property developer Billbergia and investment company AMP Capital are behind the project, built by Hutchinson Builders: Read more.
AMP fund manager Warwick Petschack said about 550 apartments had been sold. He said roughly a third of investors were from Brisbane, 20 per cent from overseas and the rest from interstate.
"We've got a good buyer mix from all of the cities in Australia, but huge support from the Brisbane market as well," he said.
Eight levels of underground carparks have been completed, and the builders will now begin laying the foundations before the tower takes shape and the first residents move in by 2017.
Skytower will be the city's tallest building until another development at 300 George Street reaches the 274 metre mark, which is the maximum height permitted in Brisbane because of aviation regulations.
The two sites will be Australia's equal third tallest skyscrapers behind the Gold Coast's Q1 and Melbourne's Eureka Tower.
Mr Petschack said Skytower would be an "iconic" building for the city, but played down its architectural significance when a television journalist asked if it would be Brisbane's answer to the Sydney Opera House.
"It will become an iconic building because of its scale, but others will add to the Brisbane story," he said.
Mr Petschack said the developers had abandoned plans to try to increase the height of Skytower to 300 metres.
The Skytower project features mostly one and two-bedroom apartments, with prices starting from $425,000. The second stage of apartment sales is set to begin this weekend.
Another development next to Skytower at 111 Mary Street is expected to be a luxury hotel. The site was owned by Billbergia and AMP Capital before it was sold last September.
Hutchinson Builders chairman Scott Hutchinson said "thousands" of new jobs would be created during the construction phase, and he hoped his company would win the contract to also build the proposed hotel next door.
Tips to Finding that Great Investment Property
The purchase of a property will in most cases be the most expensive transaction you will be involved in. So it makes sense to make sure that you apply some rules and common sense to the process. Most investors buy properties close to home, their comfort areas.
However, you should still apply a minimum amount of due diligence to your process, in your own back yard or not.
Here are my top tips to help you along the way.
1. Choose your area
I would suggest looking in areas that your price range is suited for. Subscribe to a resource provider and get to know your areas well and what the drivers are for growth.
Make sure you get friendly with local agents and they can keep you informed of activity within those areas. All suburbs have cycles and micro cycles. Get to know them.
2. Research
Get to know the property types and sales data, time on market and discounting from listing price to sales price. This will all become invaluable information for you.
3. Hit the pavements
Inspect as many open houses as you can and monitor sales of them. As you record the data you will get to know trends and pricing in that area and you will then be familiar with any opportunity that you see and have the ability to make a decision fast.
4. Give up your weekends
Attend as many auctions as you can as this will give you an insight into buyer's prices in the area about 2 weeks before it is common knowledge. Again arming you with that all important information for when you find that opportunity.
5. Practise your negotiating skills
The way that you approach an agent and seller can sometimes determine the level of discount you are able to get. It's not where you start, it is where you finish that counts and different strategies can translate into good cash savings on a property. Spend time with investor meetings and get to know their methods and tricks.
6. Set your price and stick to it!
This is as important as buying in the right area.
Even if you bought an average property in a good area you can at least make some changes to it to catapult its performance. But it is important to make sure you get the property at a good price otherwise you will be spending the first couple of years playing catch up.
Make sure you know your areas and your prices. Armed with this knowledge you can do your own CMA on any property that you like and will have an accurate value in 5 minutes.
Queensland no Longer Outstripping Nation
Source ABS 26th March 2015
Queensland's population growth has slowed to its lowest rate in 15 years, according to figures released by the Australian Bureau of Statistics (ABS) today.
"The sunshine state's growth rate was 1.5 per cent in the year to September 2014." said Phil Browning from the ABS. "While this is similar to the national growth rate, it is well below the state's 15-year average annual rate of 2.1 per cent,"
"This slower growth is due to a nine year low in the state's net overseas migration and one of the lowest net interstate migration increases in over 30 years."