by Simon Parker
The Australian property market isn't in bad shape and will begin to improve again as part of a normal cycle, the head of Victoria-based group Barry Plant Real Estate claimed.
"It's ludicrous to put too much faith in forecasters such as American property market analyst Harry Dent who believes the Melbourne market will completely flatten out like it has in the U.S," Mike McCarthy, CEO of Victorian based Barry Plant Real Estate, said.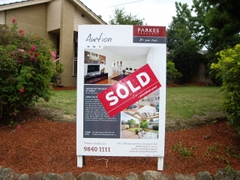 "All they are doing is scaring off buyers when the market is favouring buyers in a way that we have not seen for some years."
Mr Dent said recently that the global economy was set for a second, major downturn in early 2012, and this would undermine a highly overvalued Australian real estate market.
Mr McCarthy said the impact of negative forecasting has resulted in a decrease in consumer confidence affecting potential buyers, with many deciding not to purchase properties, in the belief that the market would decline even further. Instead, based on his 18 years' experience in the Melbourne real estate industry, the current ebb was a normal part of the real estate cycle.
"Experience and a range of other data suggest that it's not going to happen," he said.
"The Australian economy is strong – employment is up – it's nothing like the U.S economy. This is just a normal part of the cycle, and it's on the way up again."
He pointed to a RP Data graph of the property market cycle over a 20 year period, which he said showed there had been a real correlation between consumer sentiment and sales volumes, with both indices recently reaching a natural two-year low. He believed the RP Data graph indicated both the market, and consumer confidence, are now once again on the rise.
He added that this was further backed up by data from the Westpac Melbourne Institute Survey of Consumer Sentiment 'Time To Buy a Dwelling' index, which reported that consumer confidence rose 8.1 per cent in September 2011.
"This data shows that it is ridiculous for potential buyers to wait for prices to drop further. Now is definitely the time to buy. People who wait run the risk of missing out – and will have to wait for the cycle to come around again," Mr McCarthy said.
Article originally published here – http://www.theadviser.com.au/breaking-news/6209-buyers-should-ignore-negative-property-market-talk