Market Overview
Wow! This quarter has been a fluster of activity. Buyers have been scrabbling and digging deep in their pockets when competing for "in-demand" properties like a new family home in a sought after area.
This quarter has seen a real shortage in the supply of quality investment grade stock across many areas throughout metropolitan Adelaide.
The constant flow of media articles spruiking the Adelaide market is creating positive sentiment both locally and interstate.  And this is working hand in hand with the confidence that the post-election rate cuts and lending adjustments is also providing.
There are a variety of strong investment opportunities within the Adelaide market to fit every budget, which will see good growth and solid rental yield. The inner and middle ring suburbs are continuing to be some of the best performers and driving the median house growth. Family homes within the inner ring suburbs continue to performing solidly with fierce competition driving their prices north. We are also seeing many "hot spots" along our southern corridor where there are numerous infrastructure projects in the works – we expect to see significant growth in a number of these pockets in the coming 12 months.
But beware, the lack of quality investment stock can pose significant risks to inexperienced investors who are keen to jump the gun just to get a purchase made.  This is a dangerous game which can cost you money both short and long-term! With the media continuing to talk loudly about the Adelaide market and the opportunities it presents coupled with stock sitting at basement levels you are much more likely to over-pay for the wrong property.
We are expecting to see a strong spring selling season (learn more about our vendor advocacy service), with lending adjustments meaning greater borrowing capacity for many. This will encourage those who have been sitting on the 'property' fence to get up and make the most of low interest rates, strong rental yields and the predicted significant capital growth over the next 5 years (in many areas). If you do have strong local knowledge or independent professional advice, the flurry of pre-market Spring stock can provide a great opportunity to get the right investment secured at the right price, within the right location, to fast-track your investment performance.
There is no doubt that buyer confidence is returning across the board.  We at NPB SA, have received an influx of query of late into the office and we are busy doing what we love – buying property day after day. This spring could be the cream of the crop in terms of when to secure strong investments if you buy the right property within the right area. And Adelaide's continued low rental vacancy rates sitting at 1.1% with strong yields is making Adelaide a go to for investors.  And our growing population (0.8% (14,585 people) in 2018) – shows there is growing popularity in Adelaide and that less of our locals are heading interstate.
This quarter I was also nominated as the REBAA (Real Estate Buyers Agents Association of Australia) South Australia State Representative.  REBAA is Australia's leading professional body for BAs and sets the benchmark for Buyer Agents nationwide. I am very much looking forward to contributing towards industry progression and development in my role. I am also excited as I have been shortlisted as the REISA Buyer Agent of the Year and have my fingers firmly crossed for taking out back to back gold.
Alberton - "Tiny suburb goes boom"
 Overview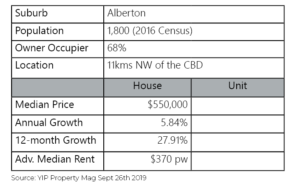 You will be surprised at how much change there can be in 1 square kilometre!
Alberton is approximately 0.9 square kilometres and has a population of just under 2000 people and is undergoing significant change.
Alberton's traditional industrial areas are being redeveloped into residential neighbourhoods and properties. And why not? Alberton is about 12 kms North West of Adelaide's CBD, which is an easy commute of 10-15 minutes and only 4kms to the beach.
Now not all parts of Alberton are new to residential homes. There are some absolutely stunning homes in this suburb. Beautiful heritage homes are located on wide streets laced with Jacarandas and ancient gum trees.
The local community is dominated by mature age childless couples but younger families are starting to recognise the opportunities that Alberton presents. There are parks, public tennis courts, and the local footy club and a lovely little cafe called "The Pear". There is a local IGA, post office and pharmacy and it's not far from the developing Port Adelaide area with plenty of shops and markets. The local primary school named 'Alberton' is funnily enough located next door in the suburb Queenstown and in nearby Rosewater is Mount Carmel College, a co-ducational secondary school.
Alberton also benefits from its proximity to West Lakes Which has the Westfield West Lakes Shopping Centre, Woodlake Shopping Centre and Riverside Golf Course. It also contains Delfin Island, a residential island within a Boating Lake!
Alberton train Station is located fairly central in the suburb and three bus routes run along its perimeters.
Alberton did have a bad reputation, probably solely because it is home to the working class Port Adelaide Footy Club but like the club it continues to develop and regenerate. Locals and returning visits say there is a great community feel, that the neighbourhoods are safe and Alberton provides great access to the beach and city. Alberton is home to AFL team Port Adelaide'
It is definitely worth a second look and for a tiny suburb it is poised to boom!
Purchase Example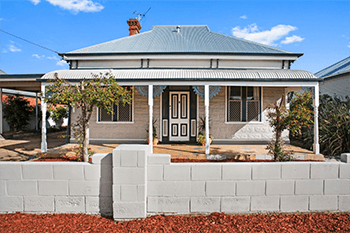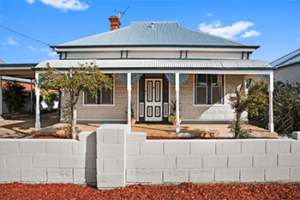 3 Bed | 1 Bath | 4 Car
Extensively renovated home villa Circa 1910 set on approx 591m2 of land. Purchased in March 2019 for $490,000. A short walk to Alberton railway station. Approximately 16 minutes via train, 21 minutes via car to town. Local schools include Mt Carmel College and Alberton Primary School. Local amenities include The Pear Community Cafe, IGA, Takeaway food shop, discount pharmacy and pizza shop.
View the agent listing here.
Stirling - "The heart of the hills"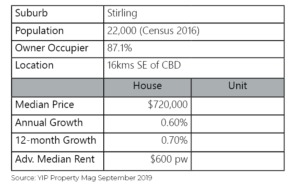 Stirling is the heart of the hills. Shopping for property in the hills this time of year is a real mood improver.
Stirling has a small town centre with everything you could need. Supermarkets, cafes, restaurants, boutique shops and the quintessential local pub and hotel. There are a number of upmarket cafes and organic stores and amazing library.  And this is all surrounded by 1000's of acres of market gardens, orchards and possibly the best wines in the world. On Sundays you can check out the popular Organic Market, walk the gardens and enjoy everything it has to offer.
Stirling is all about community and is a great location for families. There are good public and private school options available. Kids can walk or ride their bikes to school. Everyone walks here! The clean and tidy streets of Stirling are very inviting. There are also some great parks and playground for the young families if you are looking for something a little more active.
Stirling benefits from large blocks, easily up to 2000 sqm! These blocks have beautiful old 1900's homesteads on them. And unlike some areas of the hills the hard work has all been done, the gardens are beautiful and lush and the blocks are relatively flat. And if you love natural light, the the elevated homes receive an abundance of it.
Whilst you don't need to come down to the city, if you do, Stirling is deceptively close. During off peak it take as little as 15 minutes with easy access to the freeway. There is a bus service into town but most people choose to drive. Or better yet go the other direction for 5 minutes and visit world famous wineries.
What surprises quite a few local Adelaidens is that despite Stirling being this slightly magically place it caters for everyone and their different budgets. There are definitely a few rambling country manors that cost in excess of $2 Million dollars but there is also opportunity to buy smaller properties not so close to the centre of town for $500k.
Be careful if you visit Stirling though, you may never want to leave!
Purchase Example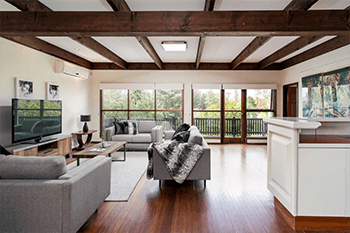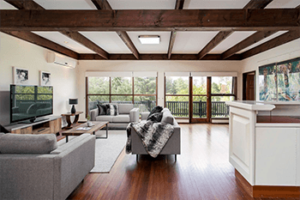 6 Beds | 5 Baths | 3 cars
This architecturally designed home offers a range of opportunities for the extended family or that Airbnb lifestyle you've always wanted. Spoilt for choice with 6 bedrooms and 5.5 bathrooms, more than 550sqms of living/entertaining space spread over three levels and expansive views across Stirling and beyond, you couldn't wish for more. View the agent listing here.
Vacancy Rates and Median Prices
Adelaide Q3 Vacancy Rate  1.1%, NPB Q3 Vacancy Rate 0.02%
Adelaide's rental market has one of the lowest residential vacancy rates in the country. The only major city with a lower vacancy rates is Hobart at 0.6% (according to SQM Research). And speaking with potential tenants they are confirming that there aren't many quality properties out there. However, that doesn't seem to stop them from being particular, so a well maintained property is as important as ever. Rental yields are still holding strong in Adelaide, continuing to prove that it is a steady and reliable location to purchase and hold an investment property. 
We are entering what is often a really busy time in rentals for Adelaide. Lots of landlords look to have their leases start and expire in the lead up to Christmas. Ideally landlords should have their property hitting the market and leased prior to Christmas and the silly season, or even better, the advertising being able to commence a couple of weeks into January. Either of these timeframes will ensure prospective tenants are out and about whether looking to move into a lifestyle property (pool, beach, outside space), into a school zone and not caught up in the rush and stress of everything else that goes on around Christmas and New Years. 
There is less short leases available at this time of year as landlords and property managers would prefer not to have leases expiring during Winter. Presenting properties is also seen as easier during the warmer months, they look and feel cleaner, fresher and brighter. Agents can also be more flexible with timing of private or open inspections given the longer days.
The past quarter we leased a number of properties, but without a doubt, our most popular was a one bedroom, fully furnished unit in Norwood. Having the convenience of location and not needing to shift or purchase furniture saw line ups of people waiting to view this property and it was successfully leased to a strong application after the first open. Offering something a little unique, drummed up interest and the landlord was very pleased to have a quality tenant found so quickly.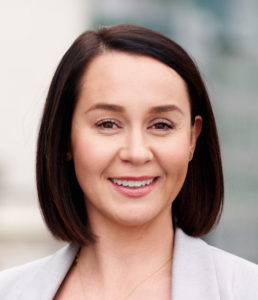 by Katherine Skinner
Director
Katherine Skinner began her career in property over a decade ago in Melbourne working in Buyer's Advocacy and Property Management. Returning to her home town of Adelaide in 2009, Katherine quickly established a reputation as an exceptionally thorough and diligent practitioner, providing outstanding customer service coupled with a calm and positive attitude while working with some of Adelaide's most highly regarded agencies. Katherine was named the REISA Buyers Agent of the Year 2018, a REIA National Awards 2019 Finalist and is the current South Australia representative for REBAA.
0438 729 631 or email Katherine
Investors, I can't recommend the NPB Adelaide team highly enough.
We have dealt with Katherine Skinner and Kate Fuller in buying 2 houses over a 1 month period and we also asked the team to manage our properties for us, since we're located interstate. Within about a week, Katherine had located and secured amazing options for us, in great locations with exactly the right specs for a great investment and saved us so much money in the process. Her advice, guidance and confidence was amazing. All we had to do was pick what the best of the bunch and sign the contract, Katherine took care of everything else, including securing a great purchase price, arranging for an excellent Conveyancer and building inspections. I wouldn't consider doing this again without NPB guiding and managing the process for us.
Within a week of settlement we had our first tenant secured. New carpets and cleaning were needed, no problems, Kate managed it all within a very tight timeframe and kept me fully updated during the process. Access needed for depreciation schedule? Not an issue, Kate arranged it all with a smile (that I can't see, but I do feel ) . Nothing is ever a problem for this hard working, tenacious and professional team. No question was too small, and the attention to detail on things I would never have considered in ensuring the house was prepared and best for attracting a good quality tenant really impressed me.
I am so happy with the service and the hard work provided by this team, and so grateful that I can relax and leave everything to Katherine and Kate. Thank you ladies for helping us to prepare for the future and manage our new assets for us. 
Contact Us Today
If you have any questions about the Adelaide market don't hesitate to contact our local team or if you would like a complimentary, obligation free 1 hour consultation please complete this form.